ABOUT TURKEY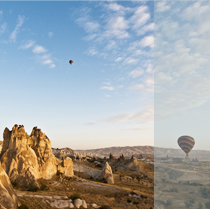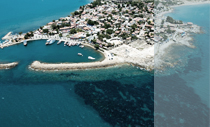 TURKEY has been called "the cradle of civilization" and one can discover what this literally means only by traveling in this land of history. The world's first town, a neolithic city at Çatalhöyük, dates back to 6500 BC. From the days of Çatalhöyük up to the present time Turkey boasts of a rich culture that through the centuries has left a lasting foot-print on modern civilization.
Being the heir of many centuries of culture makes Turkey a paradise of knowledge and cultural heritage. Hattis, Hittites, Phrygians, Urartians, Lycians, Ionians, Persians,Macedonians, Romans, Byzantines, Seljuks and Ottomans have all occupied crucial places in the historical background of Turkey and ancient sites and ruins scattered throughout the country give proof to each civilization's unique distinction.
There is no doubt that one visit will not be enough, and you will want to come back again and again as you discover one extraordinary place after another. All of them, no matter how different, have one thing Turkey is a paradise of sun, sea, mountains and lakes that offers the vacationer a complete change from the stress and routine of everyday life. From April to October, most places in Turkey have an ideal climate that is perfect for relaxing on sandy beaches or enjoying the tranquility of mountains and lakes.
LANGUAGE
Turkish is the official language, but English is widely understood in the main tourist areas.
GETTING AROUND
The best way to travel in and around the Turkish coastal resorts is by the local minibus services which can be hailed from the roadside. There are good bus services between the major towns and organised tours to many attractions, though more independent travellers often prefer to rent a car.
CLIMATE
Weather of September in Istanbul
Month temperature average is 21°C where the highest point is 25°C and the coolest point is 17°C.
TURKISH CUISINE
Turkish food is famous throughout the world, the range is enormous, from a number of soups to an astonishing variety of meze (appetisers), followed by meat and fish dishes, many famous Turkish sweets and pastries and Turkish coffee. The traditional breakfast is a scrumptious combination of tastes comprising bread, olives, tomato, cucumber, white cheese, butter, jam/honey, yoghurt, and sweet black tea.
Tea is the main drink in Turkey, served without milk in small bulbous glasses with sugar lumps on the saucer. For a very refreshing long drink try Ayran, a mix of yoghurt, water and salt. There are also the normal soft drinks and a wonderful range of squeezed fruit juices. Among alcoholic drinks are light Turkish beer, excellent wines, and the national drink, raki (an anisette), which clouds when water is added giving it the popular name of 'lion's milk'.
CURRENCY AND CREDIT CARDS
Turkish currency is the Turkish Lira, TL. You will have a bank office near the Conference Center at your service. TL is freely sold and bought in hotels, banks and special exchange offices called "döviz bürosu". Car rental offices, hotels, above average restaurants, shops, travel agencies, gas stations will accept your credit cards. You can get cash with your credit card or cash card by using cash machines (ATM's) in bank buildings or street booths.